Surrendering to the Sahara in Mauritania
The Toronto Star | Saturday, May 21st, 2011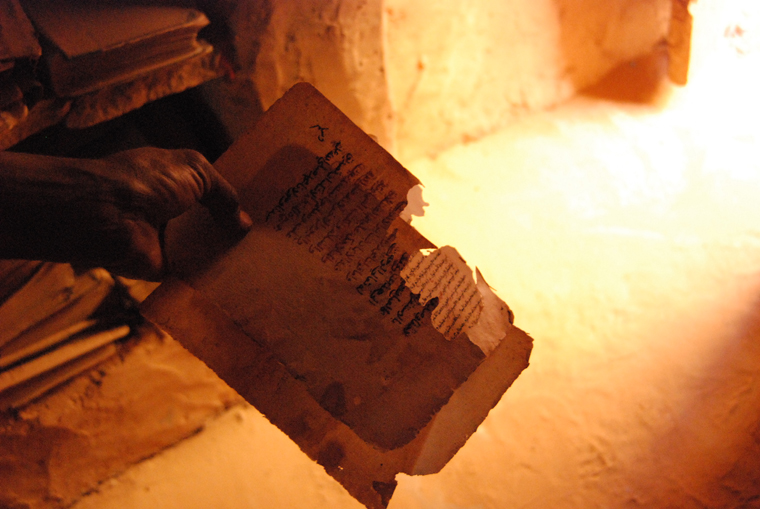 CHINGUETTI, MAURITANIA—The creaky acacia wood door is left open allowing fresh air and desert light into the dank, shadowy library. Dusty stacks of books crowd the shelves of the mud-plastered room. As the man unfurls the leather cover and holds up an Islamic-illuminated manuscript, the significance is not lost on me. Centuries ago a calligrapher had drawn those masterful strokes, the simple and beautiful embellishments on this now yellowed crumbling piece of parchment. I hold my breath as if an exhalation would turn it to dust or wake me from my Indiana Jones-esque fantasy come true.
There is a crystalline moment on every trip where it sinks in, the moment where not only do you truly believe that "you are here," but you also comprehend just how special it is. This is the moment for me: I am here unearthing history in the ancient caravan town of Chinguetti, in the country of Mauritania, in the Sahara. I am in the Great Sahara.
To say I am in Mauritania probably doesn't mean much of anything to most. The country, on the west coast of Africa, scarcely registers in the global consciousness, the lack of outside interest perhaps due to its sparse landscape and equally sparse population (it has one of the lowest population densities in the world). France's claim on it in 1904 was a colonial afterthought, and France didn't seem to miss it either after it gained independence in 1960. Mauritania's 15 minutes of fame came courtesy of a 2008 Oprah Winfrey show on beauty ideals around the world. The show highlighted Mauritanian society's admiration of plump, full-figured women. Viewers threw down their celery sticks and asked, "Where is this country?"
With Senegal to the south, the Atlantic Ocean to the west, Mali to the east and the landmine-riddled disputed zone known as Western Sahara to the north, therein lies a country twice the size of France with some of the most spectacular desert scenery and richest Islamic history of the entire Sahara. It's a transition between Arab North Africa and black West Africa, but doesn't fit neatly into either world.
And yes, I am happy to confirm that here, big is beautiful.
A whisper of the city it once was, Chinguetti lies 400 kilometres inland at the edge of a vast dune field. Emerging from the library I plod through the labyrinthine streets, feet kicking up puffs of sand as fine as flour—ploof, ploof—stepping clumsily around half-buried tin cans, plastic wrappers and dried-out animal bones. The thing you learn quickly about sand is that it gets everywhere—in your hair, in your camera, in places you never knew you had until you've had to shake sand out of it. It's invasive and relentless.
In the midday heat, a heavy stillness hangs over Chinguetti's buildings, some of which date to the 13th century. Glancing up I see the square minaret of an ancient mosque, its ochre stonewalls radiant against a striking blue sky. The tower's stolid presence is oddly soothing to me, like a lighthouse in a sea of sand. What a sight it must have been for an incoming caravan long ago. Someone would have spied the shape on the horizon and paused, perhaps squinting to confirm before shouting the news. Relief would sweep through the band of tired travellers, thirsty for civilization after weeks of crossing empty desert. Even the most experienced or stoic must have felt something. Steadily they would continue toward the growing cityscape, urging on the obstinate camels. Arrival would have felt like a cool breeze.
Eight centuries ago, at a time when caravans of 20,000 camels were not uncommon, 20,000 people lived in Chinguetti. In its heyday it was considered the seventh-holiest city of Islam. It's position as a major hub allowed Islamic culture and academia to flourish, as evidenced by the thousands of extraordinary manuscripts crumbling away in its libraries.
Chinguetti linked the west with the east and the north with the south. Caravans laden with salt and Ghanian gold headed north to what is now Essaouira, Morocco, on a route known as "the Royal Road." Then there were the constant comings and goings east through the Sahel to fabled Timbuktu, and if we connect the dots, onward to Lake Chad, Egypt and eventually Mecca. Chinguetti was the place to refuel, rest and prepare for the journey across a desolate, parched and unforgiving land.
Walking through an ancient town built to serve a nomadic culture, I found myself immersed in a way of life that revolved for centuries around long-distance desert trade. What did a caravan need? It's all here: Warehouses for traders to safeguard their goods, inns for weary caravaneers and pilgrims to rest, fortifications to protect from the ever-present threat of raids, and mosques to pray for a safe journey home.
I reach the edge of town. I scramble up a dune, calves burning like I'm on a StairMaster, hot sand flooding my sandals. When I reach the top I sink to my knees and grin.
It's beautiful.
It stretches out endlessly, each dune a mesmeric wave in a surging tide, the marbled colours brilliant against a cloudless sky. This is what brought me here, what seized my imagination. The Sahara, a place synonymous with journey, where distance was measured not in miles but by days on camel—45 days to Nioro, 55 to Timbuktu.
Yes, I was guilty of romanticizing about this place before I got here. I've now ridden camels into the sunset (though indispensable, they are smelly, surly beasts with bad teeth and their gangling gait makes for an awkward, back-aching ride), dipped my feet into a cool, palm enshrouded oasis (there are leeches), slept in the lee of the dunes under the stars (removing sand from my cleavage was not sexy).
The landscape is fluid. A dune here today is gone the next, all signs of a camp from the previous night vanish, as if it was never there.
And this is Chinguetti's fate. The desert in Mauritania has been growing since the 1960s. A few people hold out in Chinguetti's stonewalls but the desert is patient, uncompromising. It bides its time, waiting to erase the exsiccated remains of a glorious, glorious past.
Cindy Fan is a writer and photographer based in Toronto. www.cindyfan.com
Just the Facts
Arriving: Air France flies from Paris CDG to Mauritania's capital Nouakchott three times a week. Citizens of all Western nations need a visa to enter. Chinguetti is only accessible by vehicle (or, in all seriousness, camel) and drivers/camels can be arranged in Nouakchott or Atâr. Few western tour operators offer trips in Mauritania except for epic rough-and-tumble overland journeys such as Oasis Overland's nine-week "UK to Accra" trip. www.oasisoverland.co.uk
Sleeping: Don't expect much in terms of accommodations. Nouakchott Tfeila is a former Novotel hotel and is one of the best Nouakchott has to offer. Tele: 222-525-74-00
Another hotel is Residence Imam (90 to 150 euros a night); www.residence-iman.com/
For budget travellers Auberge La Bienvenue is a pleasant guesthouse in the city centre. Tele: 222-676-78-71
Dining: Nouakchott has one of the busiest fishing ports of West Africa. That means fresh fish is always on the menu at La Palmeraie Pâtisserie Restaurant (Rue Alioune). Tele: 222-642-02-12. Craving good French food? La Salamandre will satisfy (off Route des Ambassades, Tele: 222-524-26-80). For something upscale, try expat favourite Le Jardin or Club B (both on Rue de l'Ambassade du Sénégal, Tele: 222-636-76-60 or 222-529-29-78).
Avoiding: Snarling teeth-baring camels. It means they are unhappy and will spit or bite, or do both.
View the story on The Toronto Star's website here.