Cuba: Land of Salsa, Sugar & Serenade
| Thursday, May 1st, 2014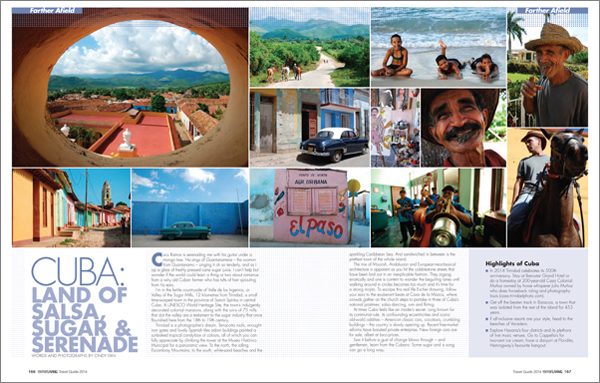 WORDS AND PHOTOGRAPHS BY CINDY FAN
Cucu Ramos is serenading me with his guitar under a mango tree. He sings of Guantanamera – the woman from Guantanamo – singing it oh so tenderly to me and as I sip a glass of freshly pressed cane sugar juice, I can't help but wonder if the world could learn a thing or two about romance from a wiry old Cuban farmer who has tufts of hair sprouting from his ears.
I'm in the fertile countryside of Valle de los Ingenios or Valley of the Sugar Mills, 12 km from Trinidad, a small time-warped town in the province of Sancti Spíritus in central Cuba. A UNESCO World Heritage Site, the town's indulgently decorated colonial mansions, along with the ruins of 75 mills that dot the valley are a testament to the sugar industry that once flourished here from the 18th to 19th century.
Trinidad is a photographer's dream. Terracotta roofs, wrought iron gates and lovely Spanish tiles adorn buildings painted a sunbaked tropical candy-box of colours, all of which you can fully appreciate by climbing the tower at the Museo Histórico Municipal for a panoramic view. To the north, the rolling Escambray Mountains; to the south, white sands beaches and the sparkling Caribbean Sea. And sandwiched in between is the prettiest town of the whole island.
The mix of Moorish, Andalusian and European-neoclassical architecture is apparent as you hit the cobblestone streets that have been laid out in an inexplicable fashion. They zigzag erratically and one is content to hopelessly wander the beguiling lanes until walking around in circles becomes too much like being trapped in an Escher drawing and then it is time for a strong mojito. To escape, follow your ears to the exuberant beats at Casa de la Música, where crowds gather on the church steps to partake in three of Cuba's national pastimes: salsa dancing, rum and flirting.
At times Cuba feels like an insider's secret (unless your entire time is spent on a beach lounger). Long known for its communist rule, its confounding eccentricities and iconic old-world oddities – American classic cars, cocotaxis, crumbling buildings – the country is slowly opening up. Recent free-market reforms have boosted private-enterprise. New foreign cars are for sale, albeit at loco prices. See it before a gust of change blows through – and gentlemen, learn from the Cubans: Some sugar and a song can go a long way.
Highlights of Cuba
* In 2014 Trinidad celebrates its 500th year anniversary. Stay at Iberostar Grand Hotel or do a homestay at 200-year-old Casa Colonial Muñoz owned by horse whisperer Julio Muñoz who does horseback riding & photography tours. casa.trinidadphoto.com
* Get off the beaten track in Baracoa, a town that was isolated from the rest of the island for 453 years
* If all-inclusive resorts are your style, head to the beaches of Varadero
* Explore Havana's four districts & its plethora of live music venues. Go to Coppelia's for 2-cent ice cream; have a daiquiri at Floridita, Hemingway's favorite hangout
See more of Cindy's travel tips, stories and photos on her website somanymiles.com