Laos: Nam Nern Night Safari helps tigers back from the brink
The Australian | Saturday, May 14th, 2016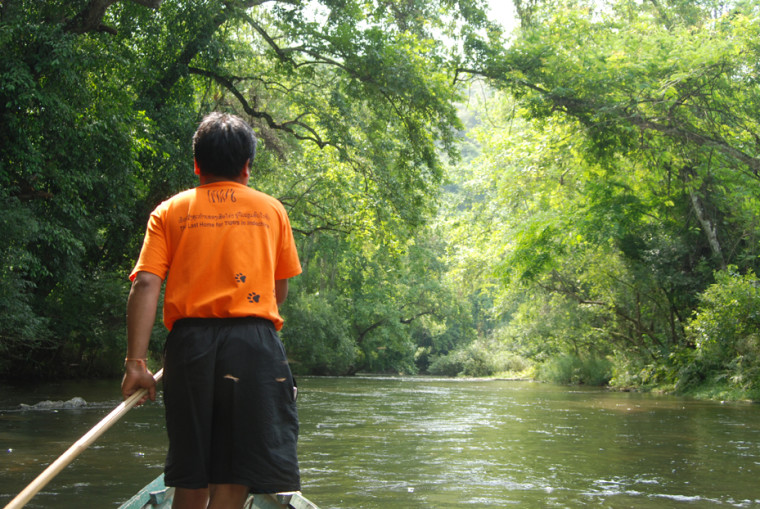 A community-based initiative in Laos aims to save tigers
By Cindy Fan
The jungle is not my friend. There is no logical explanation why, in a group of many, I will be the only one treated as a blood buffet by mosquitoes, leeches and the rest of Mother Nature's posse of vampires. Yet here I am, deep in the remote jungle of Laos's Houaphanh Province, on a safari looking for carnivores, and I'm excited as heck.
My position as a sacrificial lamb weighs on my mind as the guide extinguishes the campfire. What a difference the light makes. This afternoon, in blazing sunshine we raced up the Nam Nern River in motorised canoes, travelling deep into the Nam Et-Phou Louey National Protected Area. It took two hours, the journey a bright visual feast of beautiful wilderness as we zipped past cliffs, fought our way up rapids, and wound our way through thick tangles of bush to reach camp. In the daytime, nature exists because we see it. Now in the darkness, nature is omnipresent and it is felt. We wordlessly climb into waiting canoes and push off from the banks, slipping blindly down the river without motors or chatter.
The Nam Nern Night Safari is a two-day, one-night wildlife spotting trip in Nam Et-Phou Louey, Laos's largest national protected area, which is located on the country's northeast border with Vietnam. The park covers 4229sq km across three provinces and contains areas of primary forest with rich biodiversity. We are floating along in the hope we might encounter endangered animals such as sambar deer, civets, slow loris, monitor lizards and the critically endangered, white-cheeked crested gibbon. In 2013, apparently visitors saw a family of three Asian black bears. But I am hoping for a glimpse of the most elusive quarry of all, the tiger.
In March last year the British and Washington DC-based Environmental Investigation Agency released an alarming report exposing Laos's critical role in supplying and facilitating the global illegal wildlife trade. It documented the open sale of endangered species in the Golden Triangle Special Economic Zone, a Chinese-run casino resort complex in Bokeo Province, northwest Laos. The report claimed that animals smuggled in from across Asia and Africa were on the menu, and the predominantly Chinese clientele could enjoy anything from sauteed tiger meat to bear cubs kept live in cages and made to order. The investigation alleged plans for a large-scale tiger breeding operation at the resort — 500 animals within three years — for the manufacture of tiger- bone wine for export to China.
The farming and trade of captive-bred tigers are proliferating in the region, the demand partly fuelled by tourism. The country is also home to kingpin Vixay Keosavang, head of Xaysavang Network. In November, 2013, US Secretary of State John Kerry called the network "one of the most prolific wildlife trafficking organisations currently in operation". The US Government offers a $US1 million ($1.36m) reward for information leading to the dismantling of the syndicate, which also has a tiger breeding operation.
So there are indeed tigers in Laos but not where they should be. There is no moon tonight and as my eyes adjust, I can make out the faint outline of the guide standing at the bow of the boat, scanning while steering us along with a bamboo pole. He moves a powerful torch over the riverbanks and trees in an erratic fashion, hoping the beam will catch a reflection of shining eyes.
I sit still. The only sound is that of water slapping the boat, the occasional hollow thud and scrape against the gunnel, and the growing rumble of distant rapids.
Suddenly the torch is trained like a laser to a single spot; that's the signal. We turn on our own torches and point. The glow is unmistakeable. There in the brush is a sleek feline body and two yellow orbs shining back at us. It is a civet. I shiver. I've been on safaris before but never one where spotting an animal is so important.
In 1902, a tiger found itself cornered under a billiard table at the famed Raffles Hotel in Singapore. When the rifleman peered into the darkness, he saw a pair of gleaming eyes and aimed between them. That was the end of the last tiger in Singapore. Nam Et-Phou Louey's swath of mountainous jungle holds the sad distinction of being perhaps the last home for tigers in Indochina — it's the figurative billiard room. Through photos taken by camera traps, it's estimated that only seven to 23 endangered Panthera tigris remain in the area. In China and Vietnam, tiger bones, penises and other rare animal parts such as bear bile and paws have long been coveted for use in traditional medicine and as status symbols. A tiger skin or rhino horn is considered akin to having an exclusive designer bag or a Rolex watch.
Laos is a landlocked, authoritarian one-party state that shares borders with Thailand, Myanmar, China, Vietnam and Cambodia, five countries reputedly involved with wildlife crimes. Its strategic location makes Laos the ideal hub. Human thirst for these animals, along with hunger for their prey and habitat, has driven them to near extinction.
Yet the balance between human needs and conservation is a delicate one. Laos is classified by the UN as a Least Developed Country and it is one of the most impoverished in Southeast Asia. More than 90 per cent of the villages within the park's area are classified as poor. These settlements rely on small-scale agriculture, upland cultivation and livestock, as well as hunting, fishing and gathering in the forest to survive. It is illegal to hunt in the park's core zone.
But the temptation is often too great. Sale of wildlife for pets or for food is common in local markets.
The Nam Nern Night Safari is trying to change this; the trip, set up by the Wildlife Conservation Society, uses an innovative community-based ecotourism model to bring these animals back from the brink.
Because I have seen a civet, 20,000 Laotian kip ($3.20) will be paid into a village development fund. The money will be used for small projects chosen by 14 partner communities, benefiting more than 1000 families. From monkeys to muntjac deers, each rare animal spotted by tourists has a monetary value, thus creating a positive link and direct incentive between conservation and tourism dollars. The more endangered an animal, the higher the reward; in 2013, the fund earned $US2860.
The trip is also operated and serviced by a crew from a local village, Ban Son Koua. With training they've received from WCS, they are responsible for guiding, cooking, boat operation and servicing the camp. This income supplements a traditional livelihood of subsistence farming. Locals are now stakeholders in the business of ecotourism and conservation and are contractually bound to it. Those caught fishing or hunting within the park are removed from the program. The safari's model has been so well received it won at the 2013 and 2014 World Responsible Tourism Awards.
A tiger spotted in the wild equates to $US250 to help a village; but for visitors like me, the experience is priceless. Tigers represent hope. They indicate a healthy ecosystem, one with enough large prey to sustain it. A century ago, there were 100,000 wild tigers across Asia; now there are less than 3000, with half that population in India. The WCS estimates they could be extinct within our lifetime.
We float down river for two hours. Night deepens. In addition to two civets, we spot an owl, a few water dragons and a muntjac.
I do not see even a flicker of any other creature.
Checklist
The two-day, one-night Nam Nern Night Safari costs LAK1,200,000 ($190) a person. Location and travel details are available on the website. More: namet.org
This story was published in The Australian. View it on their website here.