If you go down to the woods
The Australian | Saturday, July 22nd, 2017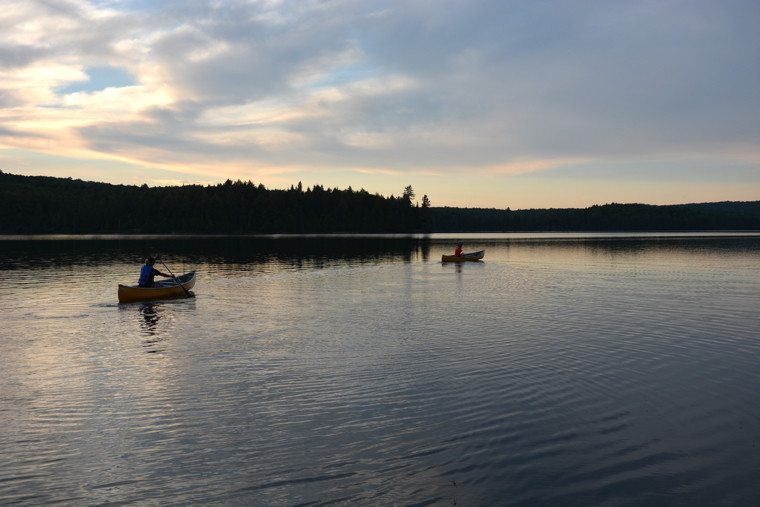 By Cindy Fan
Maybe I'm batty, but it takes me until the fourth kilometre, when I discover the leech latched on to my leg, to understand why my co-workers had asked, "But why are you going alone?"
As I whimper and grab hold of that sucker already bloated with my blood, I finally admit that trekking solo for three days in Algonquin Provincial Park, Ontario, could be perceived as foolish or somehow radical.
Despite the streaming blood and that Circle of Life song looping in my head, there is truly nowhere else I would rather be. I am here in what we call in Canada "the dog days of summer", that peak season of long, warm days when Algonquin's 7635sq km of wilderness is at maximum accessibility.
I've escaped Toronto's manic pace, driving 250km north to reacquaint myself with the simple joy of putting left foot, right foot, in front of the other. I am hungry to be on my own and outdoors in a season when the earth is dry, leaf canopies are full and lake waters are radiant.
The trail undulates through woods of red maple, black spruce, hemlock and aromatic balsam fir. I trudge past white birch, bark peeling off the slender trunks in great curls. I move around fallen logs covered in bracket fungi the size of dinner plates. In this park, the soil is not rich, the waters are nutrient-poor and winters are cruel yet wildlife flourishes, including wolves, beavers, American black bears, loons and, most famous of all, the moose. If the platypus is proof that God has a sense of humour, then the moose confirms God loves a parody. Picture a 600kg beast with a humpback and face that only Mother Nature could love — too much of a nose, those disproportionate ears and antlers, overhanging upper lip, a flap of skin sagging from its throat, the whole package mounted on four skinny stick legs. Yet it is this animal that we Canadians proudly recognise as a national symbol.
The story of Algonquin's origins is a reflection of the country's as a whole. Long before it became Canada's first provincial park, or the nation we know as Canada was founded, men were pushing into the so-called New World drawn by virgin red and white pines more than 40m tall. Lumber fuelled immigration and development. At one point half the population of able-bodied men were working winters in the bush felling trees. Logs were squared by hand and hauled to the frozen lakes until spring thaw, when the rivers would swell and the timber could be driven down a treacherous river highway from the highlands to the seaport in Quebec.
Black-and-white photos show moustachioed men around open fires, inside windowless shanty buildings, two to a bunk, socks hanging from the rafters to dry. I think of the loneliness, the bitter cold and their bleak diet of bread, salt pork and beans as I dump my packet of dehydrated chicken vindaloo on to my Trangia 25-3 ultralight stove (designed in the mountains of Jamtland, Sweden) and wrestle with the poles of my "three-season wind-stable feather-lite 20-denier-nylon tent".
The juxtaposition seems comical. How can you compare burly frontiersmen to me, a lone female, the Canada-born daughter of Taiwanese immigrants. But are we so different? My parents were pioneers, too. They came here on a promise of opportunity, a narrative as relevant today as it was two centuries ago. They came here to work, grow roots and fulfil dreams. My country has a long history of immigration, from Loyalists to Scottish Highlanders to 60,000 Vietnamese boat people. It's estimated 20.6 per cent of the total population is foreign-born; in Toronto it's 50 per cent.
My campsite for the night is Oak Lake, a small yet dazzling pool and one of about 1500 in the park; it is mine alone for the night and the sensation is overwhelming.
I wish I could tell you about a gripping event, perhaps a transcendental encounter with a beaver or a tale of becoming lost and surviving on nothing but bark. A solo trek in the woods is usually a series of minor undignified moments, such as tripping over roots, walking into branches, encountering leeches of course and cowering in a tent petrified that every snap or rustle is a bear or the ghost of an axe-wielding revenge-seeking lumberjack.
I recall my colleagues wondering why I was going alone. Now I can tell them how I crawled from the tent at first light as dragonflies hovered and dewdrops sparkled on clover leaves. How I saw the mist rising into the shadows between the pines, and how I knew I could be completely content to be by myself, here in my element.
***
CHECKLIST
Algonquin Provincial Park has eight family-friendly drive-in campgrounds, each attached to a lake. The backcountry has more than 1900 campsites reached via backpacking trails and 2100km of canoe routes. Most camping and park facilities are open from spring (April) until autumn (October). The optimal months are July and August; September-October is peak time for autumn foliage. Park permits are required.
• algonquinpark.on.ca
• ontarioparks.com/park/algonquin
This story was published 22 July 2017 in The Australian. View it on their website here.